When you're figuring out what to do in Seoul on your South Korea trip, don't skip out on all of the cool & wacky things to do in Hongdae. Set in western district of Mapo-gu, the best tourist attractions in Hongdae flourish with creativity and a youthful vibrance.
In Hongdae, a name crafted from the fusion of the first two Korean syllables of nearby Hongik University (Hongik Daehakgyo), you'll find a unique vibe that puts quirky cafés, yummy restaurants, happenin' clubs, edgy fashion boutiques, thrift shopping, and eye-popping street art at the forefront.
Not sure where to go in Hongdae? Get your Hongdae itinerary in sync with this Hongdae attractions guide featuring the best places to visit in Hongdae, Seoul…
Looking for more ideas for your South Korea trip? Check out our Seoul Travel Guide for more recommendations on when to visit, where to go & what to do!
What to do in Hongdae
Feel the buzz on Hongik University Street
Need your first idea for what to do in Hongdae, Seoul? Set your sights on the main drag of Hongik University Street.
Often called Hongdae Walking Street, this vibrant street and its surroundings are where much of the action of resonates. Along it, you'll find an assortment of cafés, restaurants, bars, and even an outdoor stage where indie bands crank out tunes for onlookers.
Besides being atop the list for what to see in Hongdae, Hongik University Street is also famous for being one of best places to shop in Seoul. Whereas Myeongdong is the go-to for cosmetics shopping, Hongdae Walking Street is where young people go to fill their wardrobes with hip fashions at decent prices.
Whatever you do, don't miss the spectacle of parading here on a Friday night when the neighbourhood surges to its craziest.
Getting there: Take line 2 of the Seoul metro to Hongik University Station. Use Exit 9 and turn left. Hongik Walking Street (Eoulmadang-ro) is two blocks away.
Get silly at the Trick Eye Museum Seoul
It's no shocker that the weird & whacky Trick Eye Museum Seoul chose the Hongdae area as its home.
Whether you're young or old, expect to have a ton of fun at this unique & innovative modern museum that's become one of the best places to visit in Hongdae.
As its name implies, the Trick Eye Museum Seoul uses parallax effects and other visual trickery to draw you into impossibly odd art as the subject. You'll ride mythical sea creatures, join historical scenes or shrink down to the size of a coffee cup—among a multitude of other outrageous situations!
Although these types of displays are popping up all over the world, this museum is unique. It combines the two-dimensional wall murals with high-tech augmented-reality via their own Trickeye Camera app.
You ticket also includes admission to the Ice Museum. This cool (literally!) museum features a handful of ice sculptures, an ice hotel room, and an ice slide for the kids.
Address

: 20 Hongik-ro 3-gil, Mapo-gu, Seoul

Opening Hours

: 9:00am to 9:00pm (last admission 8:00pm)

Entrance

: ₩15,000 (adults), ₩12,000 (children & students)
Getting there: From Exit 9 of Hongik University Station (Line 2), turn left and walk straight down Yanghwa-ro. Turn left at Hongik-ro. Walking two blocks up, turn right at Hongik-ro 3-gil. The Seoul Trick Eye Museum will be on your right, 1.5 blocks ahead.
Laugh 'til you cry at Hongdae NANTA Theatre
There's no more unique or entertaining of a performance in Seoul than at the Hongdae NANTA Theatre.
Even if you're not normally a fan of the dramatic arts, this satire Korean cooking show is huge fun for all ages one of the must-see tourist attractions in Hongdae.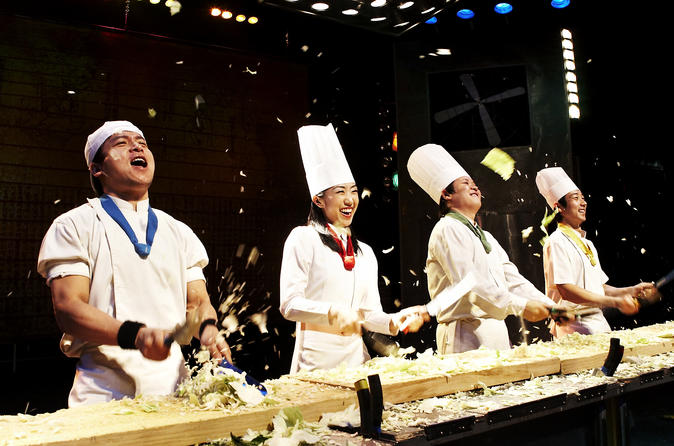 The performance at the NANTA Theatre is, like the famous Blue Man Group, completely non-verbal. It relies solely on the dramatic expressions of the talented actors and actresses to draw the audience in. No doubt this show is one of the top things to see in Hongdae and will have you in stitches from beginning to end!
If you grab one of the front seats, don't be surprised if you get chosen to join in on the act.
Address

: 29, Yanghwa-ro 16-gil, Mapo-gu, Seoul

Show Times

: 8pm (Mon-Fri), 2pm & 5pm (Sat-Sun, Holidays)

Entrance

: VIP seats: ₩60,000 (VIP), ₩50,000 (S seats), ₩40,000 (A seats)
Getting there: From the Hongik University metro station, take Exit 9 and walk west on Yanghwa-ro. Turn left two blocks ahead on Yanghwa-ro 16-gil. You'll find the NANTA Theatre two blocks up on the corner of Yanghwa-ro 16-gil and Hongik-ro 5an-gil.
Witness the Seoul street art scene on Hongdae Mural Street
The spirit of the area shows its true colours along Hongdae Mural Street (also called Picasso's Street).
This narrow alleyway (Wausan-go 22-gil), following the walls of Hongik University from the main gate to Dongmak-ro 19 gil, features some of the best street art in Seoul. You'll see everything here from brightly painted cartoon murals to politically-charged expressions.
What's most fascinating about Hongdae Mural Street—and, indeed, the neighbourhood in general—is that it's always in flux. A fantastic painting or passionate slogan might disappear and be replaced by something equally awe-inspiring (or dreadfully boring!) at any time.
Getting there: Take Line 2 to the Hongik University subway station. From Exit 9, walk straight down Yanghwa-ro, turning left at Hongik-ro. Follow the road to the university's main gate at Wausan-ro. You'll see the start of the street art alley to the right side of the outer side of the gate.
Support local artists at Hongdae Free Market
Looking for one of the most interesting cultural experiences in Seoul?
Pencil in a visit to the Hongdae Free Market on a Saturday afternoon between March and November to see the city's most artistic and creative folks at work. Unlike at a regular flea market, the exhibitions here feature original handmade items created by local artists rather than typical used consumer goods.
At the Free Market, you'll get to peruse through unique artwork, handicrafts, and clothing accessories. The lively shopping marketplace also features a stage where local bands perform to add to the lively atmosphere.
Address

: 19-3, Wausan-ro 21-gil, Mapo-gu, Seoul

Opening Hours

: 1pm to 6pm on Saturdays (Mar-Nov)
Getting there: From Exit 9 of Hongik University Station (Line 2), walk one block west on Yanghwa-ro to Hongik-ro. Turn left and walk towards Hongik University. When you reach the main gate at the end of Hongik-ro, hang right. The Free Market is located in the space between the two streets at the Y-junction.
Overwhelm yourself with cuteness at Meerkat Café
With the Hello Kitty Café's Seoul Hongdae location long gone, the undisputed king of "weird places to sip on a coffee" and one of the oddest places to visit in Hongdae is definitely the Meerkat Café.
Asia's fascination with animal cafés is hardly a surprise, but crawling with meerkats—and other animals like an arctic fox, raccoon, kitten, genet & wallaby—this hotspot takes the cake for inducing some serious Korean culture shock!
As a word of warning: Don't dress up in your Sunday best to visit the Meerkat Café. Although playful, these mischievous little devils may dig at your clothes or bite.
They're also expert pickpockets, and will grab belongings from your jeans. (Fortunately, you'll be required to empty your pockets anyway.)
Address

: 3F 19-12 Wausan-ro 21-gil, Mapo-gu, Seoul

Opening Hours

: 12pm to 9:45pm

Entrance

: ₩8,000-11,000 for a drink (required)
Getting there: Take Exit 9 at Hongik University Station in Mapo-gu, walking down Yanghwa-ro and turning left at Hongik-ro. Follow the street until you reach the main gate of Hongik University. Turn right and keep right at a Y-junction. One block up, turn left at Wausan-ro 21-gil. The Meerkat Café is in the third building to your right on the 3rd floor.
Chow down on street food or at one of the best restaurants in Hongdae
Like in much of Seoul, seeking out food to fill your belly is one of the absolute must-do activities in Hongdae. And with its massive population of hungry university students, it shouldn't surprise you that the area is one of the best places to eat in Seoul.
Whether you're looking for some of the best local dishes in Seoul or a break from Asian cuisine with some Western favourites, your tastebuds will find their match at one of these best restaurants in Hongdae…
Myth Jokbal (

23-1, Eoulmadang-ro, Seogyo-dong, Mapo-gu, Seoul

): A popular local favourite serving up a succulent garlic

jokbal

(pig's feet) that's among the best in Seoul.
Hongdae Dakgalbi (

32, Hongik-ro 3-gil, Seogyo-dong, Mapo-gu, Seoul

): A fairly non-descript restaurant on a quiet side street specializing in

dakgalbi

(spicy stir-fry chicken).
Kyochon Chicken Hongdae (

362-15, Seogyo-dong, Mapo-gu, Seoul

): Move over Colonel Sanders! This famous Korean chain restaurant rocks out some of the best Korean fried chicken on the planet. Visit with a friend (or two!) to test out several different flavours including garlic soy, honey, and spicy red pepper.
Recommended tours
Looking to dig deeper into Hongdae & Seoul? Here are a couple of the best Seoul tours including some of the top Hongdae points of interest…
Seoul Pub Crawl & Party: Let the legendary nightlife of Hongdae or Itaewon get under your skin on this tour of the hottest party spots in Seoul. Includes free skip-the-line entrance to 10+ popular Seoul clubs and a guided group visit to 4 bars & pubs.
Moonlight Riverview Bike Ride & Korean Market Food Tour: A unique evening cycling tour zipping along the Hangang River with stops at Mangwon Market, one of the best destinations for street food in Seoul, and at the nearby Mapo Fish Market, a lesser-known Seoul gem in Mapo-gu.
Korean Culture Day Tour: A full-day tour focusing on the top cultural attractions in Seoul including Jogyesa Temple, Gyeongbokgung Palace, Cheongwadae (Presidential Palace), and a visit to a traditional Korean folk village. Hotel pick-up and drop off is included.
Where to stay in Hongdae
If you're looking for an alternative to the most popular districts of central Seoul, there's no doubt that Hongdae in Mapo-gu is one of the best areas in Seoul for travellers. Here are a couple of the best places to stay in Hongdae…
9 Brick Hotel: An delightful hotel featuring modern guest rooms and elegant common areas with European-style flair. The hotel is located just blocks away from the some of the best things to do in Hongdae.
L7 Hongdae: A brand-spankin'-new 4-star hotel set in a superb location just one block from the metro and many of the other top places to see in Hongdae. Rooms are ultra-modern, colourful, and super stylish.
RYSE, Autograph Collection: The first full-on 5-star luxury hotel in Hongdae. From the moment you enter the lobby until your head hits the pillow, you'll be absolutely absorbed by the unique design aesthetic and elegance of this brilliant new offering on the accommodations scene. The location is close to many of the top points of interest in Hongdae.
Final recommendations for where to go in Hongdae
Still struggling to sort among the best things to do in Hongdae? Here a few quick last-minute suggestions for where to go in Hongdae…
Want to experience the weirdest attractions in Hongdae?

Visit the quirky Meerkat Café, one of the oddest places on earth to drink a coffee, or the popular Trick Eye Museum Seoul to belly a few laughs with some friends.

Got a craving for some Korean food while sightseeing in Hongdae?

Chow down on some delicious

dakgalbi

at the aptly, yet unimaginatively named, Hongdae Dakgalbi or some greasy and mouth-watering Korean fried chicken at Kyochon Chicken Hongdae.

Looking for an interesting Hongdae cultural experience?

Get entertained by the amazingly funny "cooking-class" performance at Hongdae NANTA Theatre or explore the unique creations of Seoul's most talented artists at the Hongdae Free Market.
More places to go in Seoul